It's been rainy and cool these days and I really enjoy the beautiful weather these two months have brought us.  It's such a welcome change since it's hot and humid all throughout the year in Singapore.  We are having 25 degrees celcius now against the usual 34 degrees celcius.   The dog has been making use of the nice cool weather for naps and cozying on the sofa.  Usually, she'd prefer to lay on the floor because of our warm weather.  Let's appreciate this now because it will be back to the heat in February.
I cooked curry chicken for dinner because it is one of our favourite dishes, plus it is a nice dish to eat in this cool weather.  I always have a packet of curry powder in my pantry because we can't live without curry chicken.  I cook it once in two weeks.  It's delicious and we seldom have leftovers for this dish.  When cooking curry chicken, be sure to buy curry powder for cooking meats because there is a different type of curry powder for cooking curry fish.  I have both in my pantry.  We also love curry fish.
There are many curry chicken recipes.  Some recipes require blending spices from scratch to make rempah, a Malay word for spice paste.  The typical ingredients for making rempah are red chillies, shallots, lemongrass, tumeric, candlenuts, blue ginger and shrimp paste.  The Nyonya-style (aka Peranakan) curries are prepared with rempah.  Other recipes require curry powder which is available in packets at supermarkets and is not as time intensive as making rempah.  I have cooked Nyonya-style curry several times but today's recipe is one that is made with curry powder because I happen to have all the ingredients on hand.  This turned out so delicious it was finished in one sitting.
When cooking curry, it is a must to have curry leaves because it gives the curry its distinct flavour.  Besides being natural flavouring agents,  curry leaves have a lot of health properties.  They contain antioxidant properties and is able to help control diarrhoea, indigestion, diabetes, peptic ulcers and an unhealthy cholesterol balance.  To prep the curry leaves to cook curry, wash and pat them dry and set aside.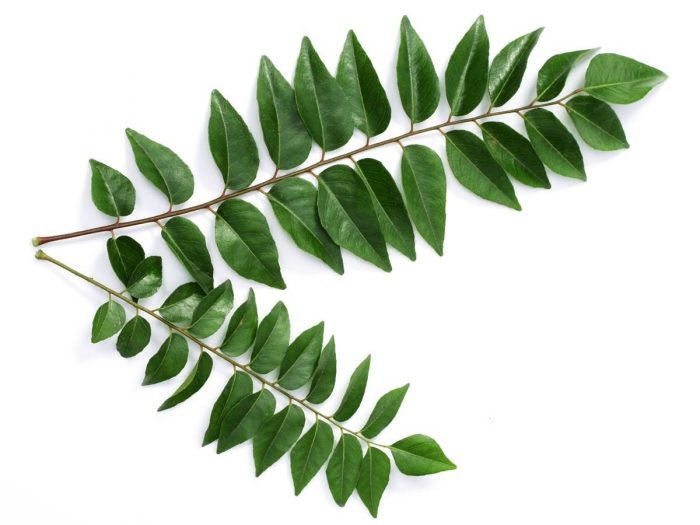 Curry Chicken
Ingredients:
3 chicken thighs, chopped into smaller pieces
1 potato*
3 tablespoons cooking oil
10 shallots
4 cloves garlic
1 stick cinnamon
6 tablespoons curry powder
1 cup coconut milk
2 cups water
1 stalk curry leaves
salt to taste
* Do not use russet potatoes as they tend to soften and break up. Wash, peel and quarter potato.  Soak them in a little salt water to prevent them from browning.  Set aside for use later. 
Directions:
Blend shallots and garlic in a blender.
Heat up a pot with 3 tablespoons cooking oil.  Pour in blended ingredients and curry leaves and cook over low heat for 10 minutes.
Add in water, slowly add in chicken and potato and cook for about 10 minutes.
Add curry powder and cinnamon.  Pour in coconut milk.  Add salt to taste.  Cook for another 10 minutes and it is ready.
Serve with either one of these: steamed rice, briyani rice, naan, roti prata or bread ♥